Volkswagen sold 5.82 million vehicles in 2015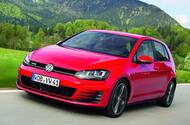 German carmaker could challenge for rank as world number one, with Toyota in close contention
Volkswagen has announced that it sold 5,823,400 cars in 2015, representing a 4.8 percent decrease in global sales from the year before.
The figures should ensure Volkswagen ranks close to the top in world rankings, as the global car industry suffers the effects of dwindling demand from important markets like China and South America.
Toyota and General Motors are due to release their results for 2015 later today – industry insiders are predicting a similar decrease to ensure the top three remains the same as the third quarter in 2015. That means Volkswagen should by vying for the top spot with Toyota – General Motors looks set to hold onto third.
The reason for an overall market decrease comes thanks to the reduction of sales in markets that had previously represented significant growth. Volkswagen sold 2.63 million cars in China and 458,200 in South America last year, versus 2.76 million and 662,600 in the same markets in 2014.
North America was a saving grace for Volkswagen, as sales there grew from 586,700 to 592,100 in 2015, and the story was much the same in Western Europe, where sales increased by 4.7 percent to 1.5 million.
At the top end of the market, Rolls-Royce also felt the effects of sluggish demand in China as its sales decreased by 278 units, bringing the total for 2015 down to 3,785 units. Admittedly, this still ranks as Rolls-Royce's second best year ever – it's nearly five times more than the carmaker achieved a decade earlier – as sales increased by two percent in the UK, seven percent in the USA, 36 percent in India and a significant 73 percent in Korea.
Lamborghini announced that it sold 3,245 units in 2015, the first time it had passed the 3,000 mark, representing 715 additional sales compared with 2014. Interestingly, Chinese demand remained strong for Lamborghini, largely thanks to the Huracán, which achieved record numbers in the latter part of 2015.
Lamborghini's parent company, the Volkswagen Group, sold 9.93 million vehicles across its brands. This represented a two percent decrease on the year before – again it was the likes of China and South America that influenced this result.
We'll update this story through the day as more figures are released – be sure to check back shortly.
loading...