Skoda VisionS concept previews new large SUV – new pictures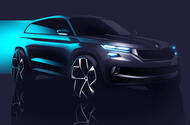 Skoda will provide a close preview of its upcoming 'Kodiaq' SUV with a thinly disguised concept car at next month's Geneva show
The Skoda VisionS concept has been previewed prior to the model's official debut at the Geneva motor show next month.
Offering a close preview of Skoda's upcoming SUV, the concept will come with three rows of seats offering space for six passengers and their luggage. The VisionS features a prominent Skoda grille at the front with raked back headlights, a large lower grille with side air intakes and a long bonnet. The roofline dips towards the rear, ending in a lip spoiler. Dual rear exhausts also feature.
The car's styling is also in line with 2014's VisionC concept, which ushered in a new design language for the brand.
The VisionS is 4700mm long by 1910mm wide, with a height of 1680mm, making it longer, wider and lower than the Kia Sorento. In production form, Skoda's SUV will be pitched as an upmarket rival to the Sorento and its sister model, Hyundai's Santa Fe.
Although nothing is official at this stage, Skoda's SUV, which is expected to take the Kodiaq name for production, should cost from around £24,000 when it goes on sale in the UK early next year. That price neatly undercuts its rivals from Kia and Hyundai, which start at £28,795 and £31,845 respectively.
The new SUV will be based on the VW Group's MQB platform, and will share most of its underpinnings with Volkswagen's own CrossBlue, which is due to be launched later this year.
Power will come from four-cylinder engines already offered in the new Superb, with a 1.6-litre turbodiesel forming the base engine. A diesel-electric hybrid version will also be offered, and four-wheel drive will be optional on most models.
Beyond the launch of its first SUV, Skoda is already planning a more rakish five-door coupé to join the range soon after the full-size version goes on sale. That car will be followed by a sportier model with tweaked styling, and the SUV family will be completed by the new Yeti, which is due to go on sale in 2018.
In a statement accompanying these images, Skoda said: "Over recent years Skoda has completely renewed its model range and the next phase will involve broadening the range of models in the SUV segment."
Read more Geneva motor show news
loading...