Infiniti Q50 facelift announced, technical details released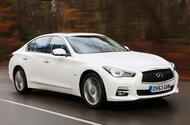 Facelifted Infiniti Q50 gets new V6 engines, steering and chassis improvements
Technical details of the facelifted Infiniti Q50 have been released ahead of the updated model's official unveiling.
A new twin-turbocharged 3.0-litre V6 engine will available in two states of tune, delivering 300bhp and 295lb ft or 400bhp and 350lb ft, although the less powerful unit won't be available in Europe. No CO2 or economy figures have been released, but Infiniti claims the unit is the cleanest and most efficient V6 it has ever made. Infiniti also says the higher-output powerplant is class-leading in terms of its power-to-efficiency ratio.
A new integrated exhaust manifold integrated into the cylinder head reduces emissions by allowing the catalytic converter to be placed closer to the exhaust, where they heat up almost instantly. Infiniti says this also reduces weight by 5.3kg, while overall the engine is 14.1kg lighter than the V6 it replaces.
Also available on the Q50 are 2.0-litre petrol and 2.2-litre diesel engines, with the former delivering 208bhp and 258lb ft and the latter producing 168bhp and 295lb ft. A hybrid powertrain is also on offer, combining a 302bhp, 3.5-litre V6 with a 67bhp electric motor. Infiniti says the hybrid system puts performance first, with the boost in efficiency stated as an added benefit.
All the engines are linked to a seven-speed automatic transmission and are available with both rear and all-wheel drive.
Infiniti has addressed criticisms aimed at the dynamics of the Q50, with an updated version of Infiniti's  Direct Adaptive Steering (DAS) system, which the firm says the qualities of a hydraulic steering system. An active lane control system is also worked into the DAS set-up.
Among the list of upgrades is dynamic digital suspension, which Infiniti says maximises agility and response while improving ride comfort. The system includes changeable settings, as well as allowing a bespoke mode, labelled Personal, tailored to the driver's preferences. The other switchable options are Standard, Snow, Eco, Sport and Sport+.
A new trim level, Premium Plus, will be added at the top of the Q50 range. It adds a host of extras including electric steering wheel adjustment, an upgraded infotainment system, split-folding rear seats and voice recognition. Safety equipment is also improved with the Technology Package and Driver Assistance Packages, which bring a variety of safety equipment with an aim of garnering a five-star Euro NCAP crash test rating.
The facelifted Q50 goes on sale in selected markets later in 2016.
loading...