2017 Vauxhall Meriva replacement spotted – latest spy pictures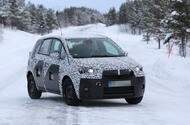 Replacement for the current Meriva gets conventional doors as Vauxhall tries to turn it into a crossover
These are the latest spy pictures of the replacement for the Vauxhall Meriva winter testing near the Arctic Circle – and they show that the new car will move away from its pure MPV heritage and get conventional doors instead of the controversial rear-hinged back doors of the existing model.
The new model – which is likely drop the Meriva name – is expected to be revealed towards the end of 2016 ahead of first deliveries taking place in early 2017. It's the first car to come from Vauxhall's partnership with PSA Peugeot Citroën, announced in 2012, and will result in new models for both French manufacturers in the near future.
The existing Meriva promised greater ease of access from its rear-hinged back doors, but the continued presence of a B-pillar meant that the gains were modest – and the expensive, complex construction appears to have been abandoned for the next generation. Our spy photographer managed to capture an image with the rear door open – and it has a more conventional front-hinged design.
Sales of traditional MPVs continue to fall across Europe and Vauxhall appears to have taken the strategic decision to morph its entry-level MPV into a fresh new crossover. A similar move was taken by Renault last year, with the revitalised Espace taking on a more SUV-like shape rather than keeping its MPV proportions. Such a move has allowed Renault to capitalise on the growing demand for small SUVs and crossovers in Europe.
The new Meriva is likely to benefit from shared engines with the Corsa and Astra. Although development is still in the early stages, Vauxhall is also deciding whether to use PSA engines to power the Meriva as well as its own units.
Vauxhall is likely to raise significantly the perceived quality of the cabin, with improvements to fit and finish, as it has in the new Corsa and Astra. The IntelliLink infotainment system is expected to be transferred from the Corsa and Astra, and is likely to be standard on all but entry-level models. It features a 7.0in colour touchscreen located on the centre console between the driver and front passenger.
The Meriva won't be the only new entrant into this growing market for long, as Ford grows its lineup in similar territories. Ford and Vauxhall will then take the fight for sales to Dacia, Fiat and Nissan, all of which are already established in the small crossover sector with the Duster, 500X and Juke respectively.
Matthew Griffiths
Get the latest car news, reviews and galleries from Autocar direct to your inbox every week. Enter your email address below:
loading...