2016 Mercedes-AMG C43 Coupé revealed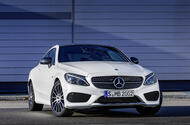 Performance version of the Mercedes-Benz C-Class Coupé gets 362bhp from its twin-turbo V6 engine
The Mercedes-AMG C43 Coupé has been revealed. It's the second AMG model to be revealed in the C-Class Coupé line-up, and is powered by a 362bhp 3.0-litre twin-turbocharged V6 petrol engine.
Set to make its public premiere alongside the new C-Class Cabriolet at next week's Geneva motor show prior to a planned start to UK sales later this year, the four-wheel drive C43 4Matic Coupe joins the rear-wheel drive C63 Coupe in a two pronged assault by AMG on the likes of the BMW M4 and upcoming second-generation Audi RS5.
The C43 4Matic Coupe is the second in what Mercedes-Benz says will be an extended range of six-cylinder powered AMG models to be unveiled in 2016. It follows the SLC43, which made its world debut at the Detroit motor show in early January.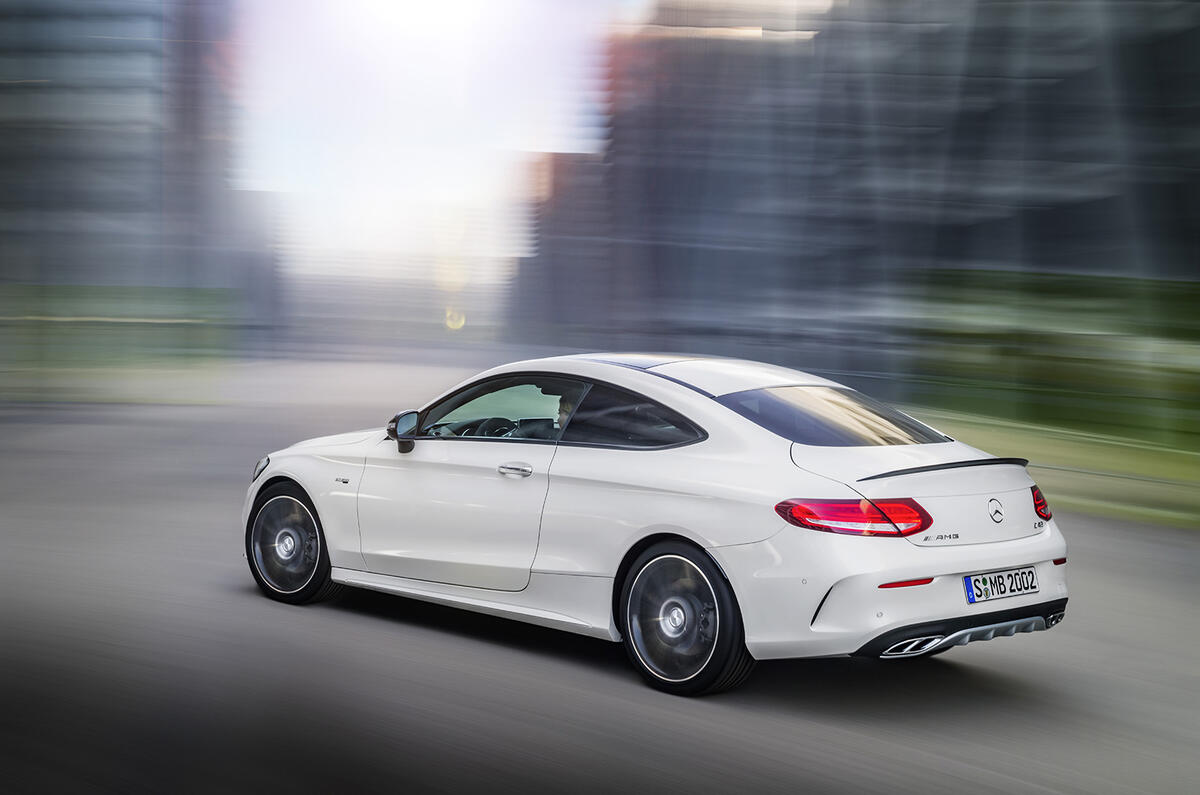 The six-cylinder AMG models were originally sold under the 450 Sport name, beginning with the C450 Sport saloon and estate launched in the UK last year. However, Mercedes-Benz and its AMG performance car division has subsequently decided to replace the 450 Sport name with the resurrected 43 nomenclature first used on the C43 AMG back in 1997.
"The extension of the C-Class family to include the C 43 4Matic Coupe is another component in our growth strategy. It starts the introduction of a whole series of new 43 models", says Mercedes‑AMG chairman Tobias Moers.
Although appearing very similar to the C63 Coupe, the new C43 4Matic Coupe sports its own uniquely styled bumpers, grille insert, sills, trapezoidal shaped tail pipes and 18in wheels, which come shod with 225/45 front and 245/40 rear profile tyres.
Inside, there is an AMG instrument and graphics package, a flat bottom multi-function steering wheel and sport seats among a range of options.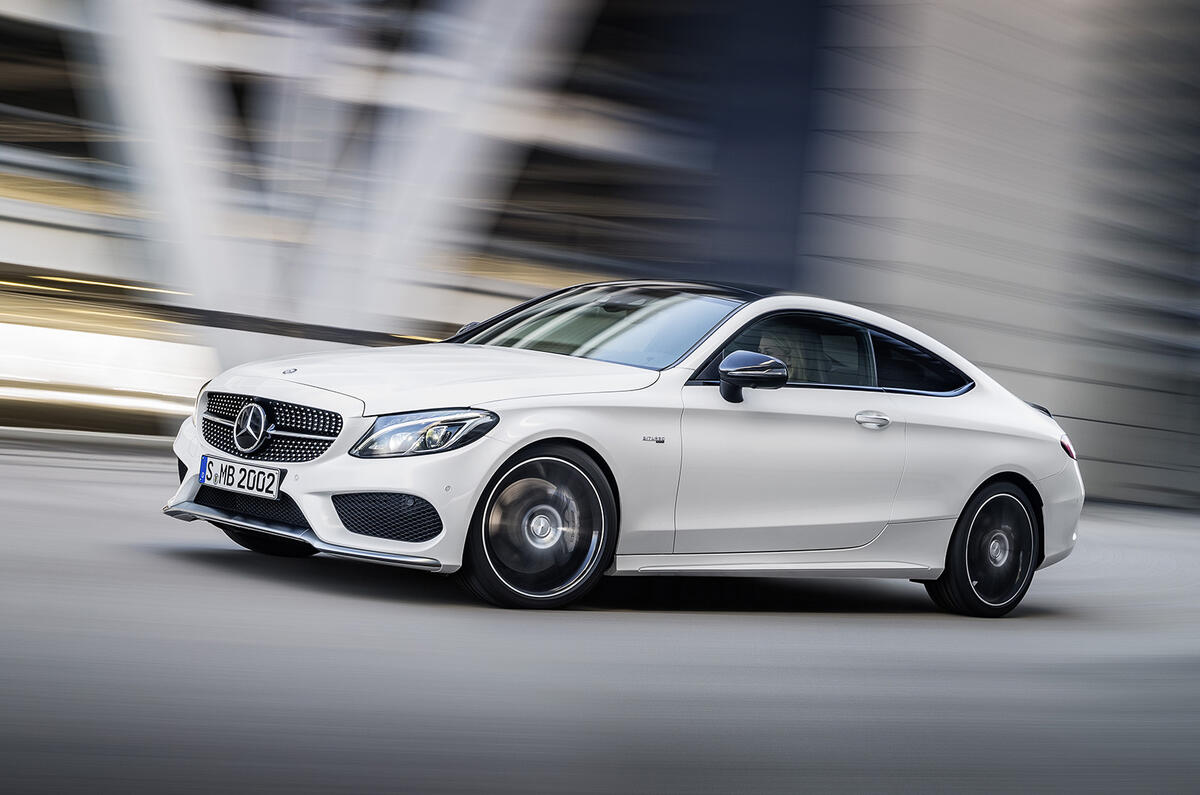 Power for the C43 4Matic Coupe comes from the same twin-turbocharged 3.0-litre V6 petrol engine launched in the C450 Sport saloon and estate. The 60-degree unit delivers 362bhp at 5500rpm and 383lb ft of torque between 2000 and 4200rpm.
This provides the C43 4Matic Coupe with 120bhp and 110lb ft more than turbocharged 2.0-litre four-cylinder powered C300 Coupe, but 141bhp and 153lb ft less than the twin-turbocharged 4.0-litre V8 powered C63.
But while the C63 Coupe channels its reserves through AMG's seven-speed Speedshift automatic gearbox to the rear wheels, the C43 Coupe receives a lightly reworked version of Mercedes-Benz's nine-speed 9G-Tronic automatic gearbox with altered software allowing throttle blips on downshifts as well as a 4Matic four-wheel drive system that apportions drive to all four wheels in a distinctly rear-biased 31:69 split.  
No official weight figure for the C43 4Matic Coupe has been made public. However, Mercedes-Benz's AMG division claims the C43 Coupe hits 62mph from standstill in 4.7sec, or some 0.7sec slower than the official time provided for C63 Coupe. Like its more powerful sibling, top speed is limited to 155mph.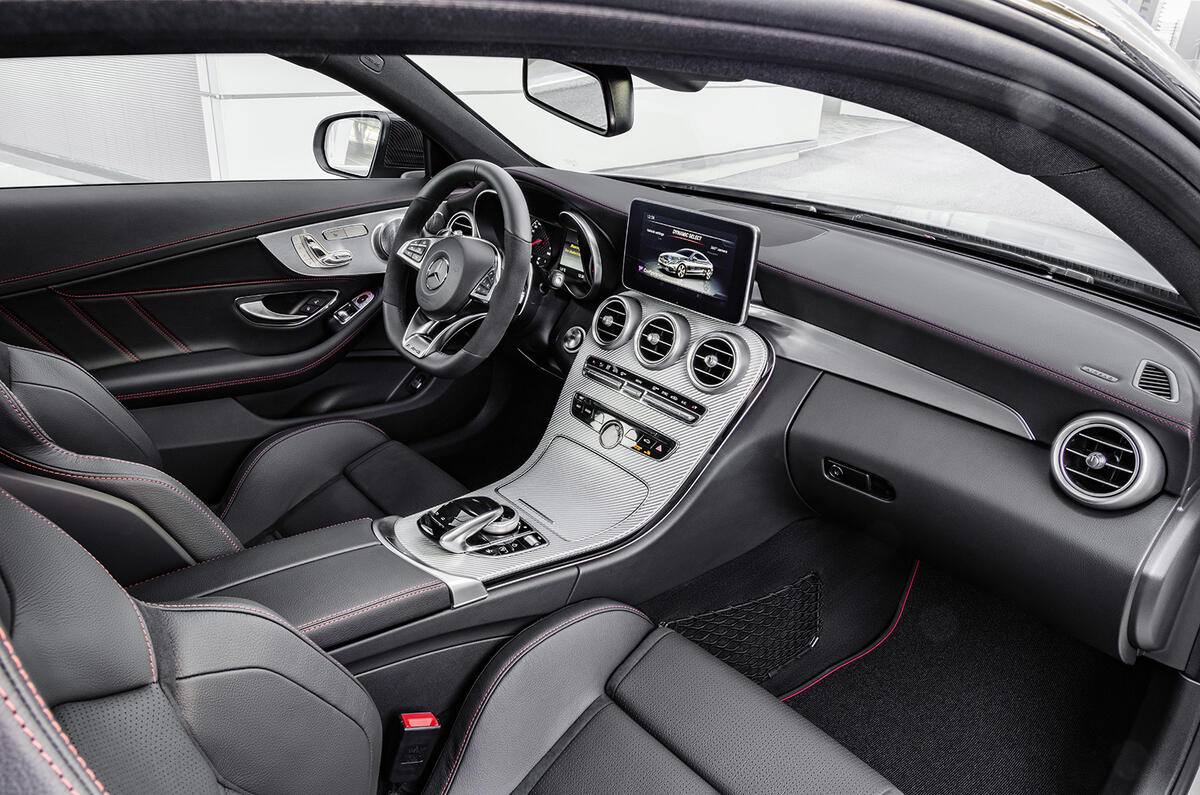 Accompanying the C43 4Matic Coupe's under bonnet changes is a heavily reworked chassis boasting a number of AMG developments, including the same steering knuckles, load bearing joints and various elastokinematic solutions from the C63 Coupe as part of what AMG describes as its Ride Control package.
Seeking to provide it with as broad a range of abilities as possible, AMG has also provided with C43 4Matic Coupe with variable damping control offering the choice between Comfort, Sport and Sport Plus settings. The brakes have also been upgraded, with 360mm front and 320mm rear steel discs fitted as standard.
Read more Geneva motor show news
loading...