2016 Fiat Tipo Station Wagon spotted – latest spy pictures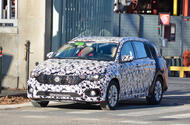 Estate variant of Fiat's Tipo saloon and hatchback spotted testing ahead of an anticipated launch later this year
The new Fiat Tipo Station Wagon has been spied testing, ahead of its launch later this year.
It's clear from the spy shots that the estate variant will share the same front-end styling as the Tipo hatchback and saloon. This is particularly apparent at the car's front, where the grille design follows that of the 124 Spider and the lights adopt Fiat's new design languag. Heavy black cladding prevents us from seeing the rear-end treatment, but a boomerang-shaped tail-light design is visible, following the same approach as the saloon, which we test drove earlier this year.
In profile, a gently tapering roofline and sloping tailgate can be seen, much like those of rivals such as the Seat Leon ST. The Tipo Station Wagon will be a touch longer than the saloon's 4.54 metres, while offering considerably more boot space than the 500 litres or so offered by the saloon. 
Like the Tipo saloon and hatchback, the Station Wagon will come with a choice of four engines at launch – two Multijet II diesels and two petrols – with power outputs ranging between 94bhp and 118bhp.
Spy shots of the new Fiat Tipo hatchback also revealed the car testing ahead of going on sale in 2016.
The Tipo hatchback is based on the same platform as the saloon variant, which was unveiled at the Istanbul motor show in May 2015. The first cars are expected to reach the UK in the second half of 2016.
While both hatchback and estate variants of the Tipo will be offered in this country, Fiat is still deciding whether to bring the saloon version here. All three variants will be shown at the Geneva motor show next year, as Fiat looks to strengthen the 'practical' element of its model line-up. 
Fiat brand boss Olivier François said: "On a global basis, Fiat has two legs to its range. There is the aspirational, emotional side, with the 500 and now the 124. And then there is the more pragmatic, practical side, with the Panda and Punto. We are still committed to this side, and you will see this in Geneva. We have the Tipo ready for Europe, and we'll have three versions there."
The new hatchback will compete in the same crowded mass market as Ford's Focus, the new Vauxhall Astra and the Seat Leon when it goes on sale.
Fiat is also said to be planning a successor to the Punto, which has been on sale since 2005. The replacement would use a modified version of an existing platform in order to minimise costs, but Fiat is tight-lipped about the Punto replacement. Neither car is likely to make it to the US. "For now we think the aspirational side of the brand works in the US," said François. "Different regions will have one leg or the other, and only some will have both." 
loading...